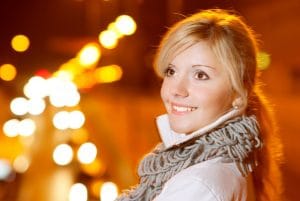 Did you spend a great deal of time, this year, dodging photo ops and even time with friends, because of insecurity about your smile? Discoloration is a common source of concern. That is because the teeth's enamel is strong but porous, allowing foods and drinks to stain the teeth's surface, over time. Inconsistencies in the size or shape of teeth are other common causes of dental insecurity. Fortunately, cosmetic dentistry provides ways to address these and a wide variety of other concerns, with beautiful and durable results, too. So if you are determined to spend 2017 enjoying the kind of confidence that comes from having a great smile, why not speak to your cosmetic dentist about what can be done to enhance your smile's natural beauty and to improve your sense of self-esteem?
Cosmetic Dentistry Can Address Many Concerns
There are a number of reasons patients choose to seek cosmetic dental treatment. Staining is one of the most common, though. That is because the smile can begin to look aged, with time, as drinks, foods and especially tobacco products begin to stain the enamel of the teeth.
Professional teeth whitening is a fast way to address most dental stains, allowing patients to enjoy brighter and often younger-looking smiles, quickly, and through affordable treatment like whitening.
Enjoy Natural-looking Enhancements
For more comprehensive issues, though, you may want to consider alternative forms of cosmetic treatment, such as cosmetic bonding or porcelain veneers, both of which can address a variety of issues, including inconsistencies in the size or shape of teeth, as well as minor gaps between some of the teeth. Though these treatments are no substitute for orthodontic treatment, to address functional alignment issues, they can help to hide minor spacing problems.